Piloting a pioneering pelvic pain management programme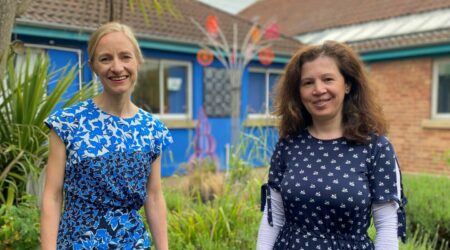 Persistent pelvic pain is a physically and psychologically debilitating condition affecting almost one in six women in the UK. It accounts for about 40% of gynaecological laparoscopies and has significant effects on both the individual and on healthcare. In the UK, care for women with pelvic pain was estimated to cost the NHS around £326m in 2015.
All too aware of the issue is Miss Jessica Preshaw, a consultant gynaecological surgeon here at Southmead Hospital.
Jessica is the co-lead in Endometriosis and is passionate about providing a patient-centred approach to the women she treats. So much so, that in 2020, Jessica and her team piloted a programme unique to the hospital, the third of its kind in the country and the only one in the entire South West region. Funded entirely by donations from wonderful people like you, this programme has transformed the lives of the women who enrolled.
"Even as a surgeon, I knew that they needed more than just surgical intervention"
"The Pelvic Pain Management Programme was a direct response to the women we were seeing, whose lives had been severely impacted by their persistent pelvic pain. When your pain is so all-encompassing, not only is it physically debilitating but psychologically too."
And so, the Pelvic Pain Management Programme was born. It took the form of a bespoke 12-week programme and combined a multidisciplinary approach, with two Clinical Psychologists, a Pelvic Health Physiotherapist, an Endometriosis and Pelvic Pain Clinical Nurse Specialist and administrative support.
Each Thursday, the group of seven women met in person in The Sanctuary in the Brunel Building Atrium, with different activities and topics scheduled for each week, giving the women the invaluable opportunity to speak with each other.
"Conversations with people who know just what you're going through, and how debilitating it can be, was such a comfort and motivation for the group. From the impact of pain on the different aspects of their lives – intimacy, work, parenthood, and relationships – it removed the taboo element they may have individually faced when talking about their condition. It was really special to see them not only throw themselves into the programme but also support each other in the process."
Focusing on individual goals
Alongside the sessions, the participants also had one-to-one meetings at the start with the programme's Pain Psychologist and Pelvic Health Physiotherapist to review their respective issues set goals specific to them. They were supported throughout by Jessica and the multidisciplinary team, with a review halfway through the programme to check in on the progress towards individual goals. Three months after the course finished, the group met together with the Pain Psychologist and the Pelvic Health Physiotherapist. Their partners and carers were also invited to a separate session.
"Their pain is better; their mood is better; their relationships are better. They are back to work, less anxious and more active."
"In a year when the pandemic changed the way we worked, it was the best feeling in the world to see these patients in a safe, face-to-face setting, and offer them a holistic approach to their care rather than solely through surgery.
"It was nice to know the thoughts of other people who have similar conditions. When you are suffering and you have a lot of pain, you feel very alone and stressed. Coming to a group you realise you are not actually the only one and sometimes within a group you can share what you do.'
'I am in a much more positive mind set about it than I was at the beginning of the programme.'
– A patient who participated in the programme
How your donations have helped
"It's hard to sum up in words the gratitude I feel – to have such incredible support from donations, a passionate group of colleagues who gave this programme their all, and an extraordinary group of patients – it is such a privilege to work with every single one of them.
"Charity support is absolutely critical. We identified a gap in our services and created a new patient programme which I hope will go on to transform the way we treat the women we see with persistent pelvic pain. More than that, we helped vulnerable women who were falling through those cracks. Isn't that just the best thing?"