Building begins on the Intensive Care Unit garden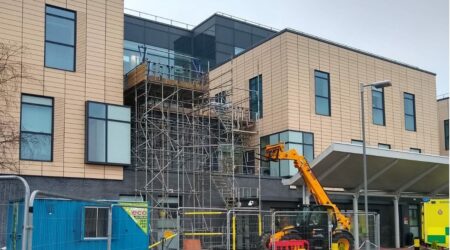 The Intensive Care Unit (ICU) here at Southmead Hospital looks after some of the most seriously ill people from across the whole of the South West – around 2,600 patients each year, who need the most complex treatment available.
The unit can sometimes be home to patients for extended stays and the loved ones who visit them. That's why we are excited that thanks to generous donations, the long-awaited project to build a dedicated garden for these patients, on the ICU, has begun.
Over the next four weeks, builders will be laying the structural groundwork so it can then be transformed into a welcoming, safe and calming space for patients and their families to enjoy the sunshine and fresh air together.
Dr Gareth Wrathall, ICU consultant and the project lead for the garden, told us what the support of incredible people like you means.
"Having such a space while being treated in Intensive Care will be transformational. We are incredibly grateful to all our patients and their families who have championed our garden project over the years.
"Whether you have donated, taken part in many a sponsored walk, or fundraised with your friends and family – your support and generosity play a huge part in creating this dedicated space for our patients and their families to be outside. It will mean so much to them.
"This has been a huge team effort, and we can't wait to see it take shape over the coming weeks – thank you so much to everyone involved in making this reality!"
From all of us at the hospital, thank you so much for your support. This would not be possible without your donations and we can't wait to update you over the coming months as the garden starts to take shape.