From Southmead baby to Southmead music manager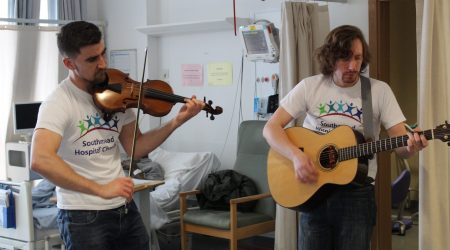 Local musician and teacher Laura Tanner has been appointed music manager for our Fresh Arts programme at Southmead Hospital – the hospital where Laura was born 38 years ago and where she was cared for in the Neonatal Intensive Care Unit (NICU).
Laur was born prematurely and spent several weeks in our NICU. But she has now returned to take up a post funded by us. The post is for 3 years and is to manage all of the musicians who regularly entertain patients and visitors in the Hospital, as well as coordinating other music and arts projects across North Bristol NHS Trust (NBT).
Describing herself as an 'NHS superfan' Laura is looking forward to developing the use of music to enhance patients' wellbeing.
"It's great to be back at the place where I was born and cared for. I'm looking forward to meeting all of the musicians who perform here every week on various wards across Southmead and Cosham Hospitals, creating a brighter atmosphere for our patients and staff. We also have over 40 volunteer pianists who play the grand piano in our Brunel building.

"I want to see how we can build on the great work already underway here at NBT. We're becoming known as a Trust which values the power of music and arts in a healthcare setting and I want to develop this even further and be an advocate for the ability of music to help in the healing process.

"I'm extremely thankful to the donors to Southmead Hospital Charity who have made this possible."

Laura Tanner
Laura trained at the Royal Welsh College of Music and Drama and at the Royal Northern College of Music. She joins NBT from her previous post as education manager at St George's Bristol, and continues to teach locally and perform professionally.
"We're excited to welcome Laura to NBT with her expertise, experience and knowledge of local musicians.

"We are delighted to have the support of Southmead Hospital Charity in helping us to develop our programme and extend our thanks to the donors who have supported Fresh Arts through the charity."

Donna Baber, Fresh Arts Manager