Southmead Hospital at Christmas: Sarah's story
Published:
9 November 2021
On 30 November 2019, Andy and Jeanette were going about their day when they received a call which would change their lives forever. Their 24-year-old daughter, Sarah, had been airlifted to Southmead in an induced coma after collapsing while out for the day with her boyfriend Chris.
"That day started out like any other. I was at B&Q shopping, while Andy was at work. Yet within a few hours, here we were, two ordinary people sat in a police car speeding towards Bristol. It was then that it started to dawn on us just how serious this was.
"We were ushered into the hospital to meet Chris and were led up to the Intensive Care Unit (ICU), where Sarah had been taken after being assessed by the Emergency Department team. We were then told that Sarah had had a severe bleed in her brain, and that she was in a critical condition."
Staying so close to the Unit was a lifeline
"It was so shocking walking into her room, seeing her asleep with a massive tube in her mouth, all these wires, the constant sounds of the monitors. The ICU team allowed us to stay overnight in the unit's family room – being so close to Sarah was a lifeline.
"The next few days were a rollercoaster. At one point, we were told to call our family in as they weren't sure Sarah was going to get through the night. The next morning, however, she was still with us and fighting, and started showing small signs of improving. We knew she was desperately ill, but it was the first bit of hope we'd had in days. We started to plan her recovery at home.
"Then, a few days after those signs of hope – 10 days after she collapsed – we were woken at 2am to hear Sarah had had a second bleed. At 1.10pm the next day, after the team had run tests, it was confirmed. Sarah had no brain activity. Our family, Chris, and her closest friends were able to spend time with her to say goodbye. We had heard Sarah talking about organ donation and knew it was something she'd want. Andy and I worked with the organ donation team – and Sarah saved the lives of four young women."
The team treated Sarah as a person, not a patient
"The ICU team were so good to us. They never told us to leave her room. One nurse brushed Sarah's hair and plaited it, while another played Little Mix for her and sat down to read some Harry Potter – two of Sarah's favourite things. They treated Sarah as a person, not a patient.
"After Sarah's donation surgery, they brought her back to the unit, where they dressed her in her favourite Harry Potter t-shirt and jumper. She looked fast asleep. She looked beautiful.
"The randomness of it all is just so difficult to digest. Why our Sarah? We still don't know whether it was something she'd been born with, or something sudden, and we never will. It does bring us some comfort knowing that before we lost her, Sarah was the happiest we had ever seen her. She was living with a wonderful partner, Chris, who made her so happy. She was promoted at work. She was starting to get back into performing, one of her many passions."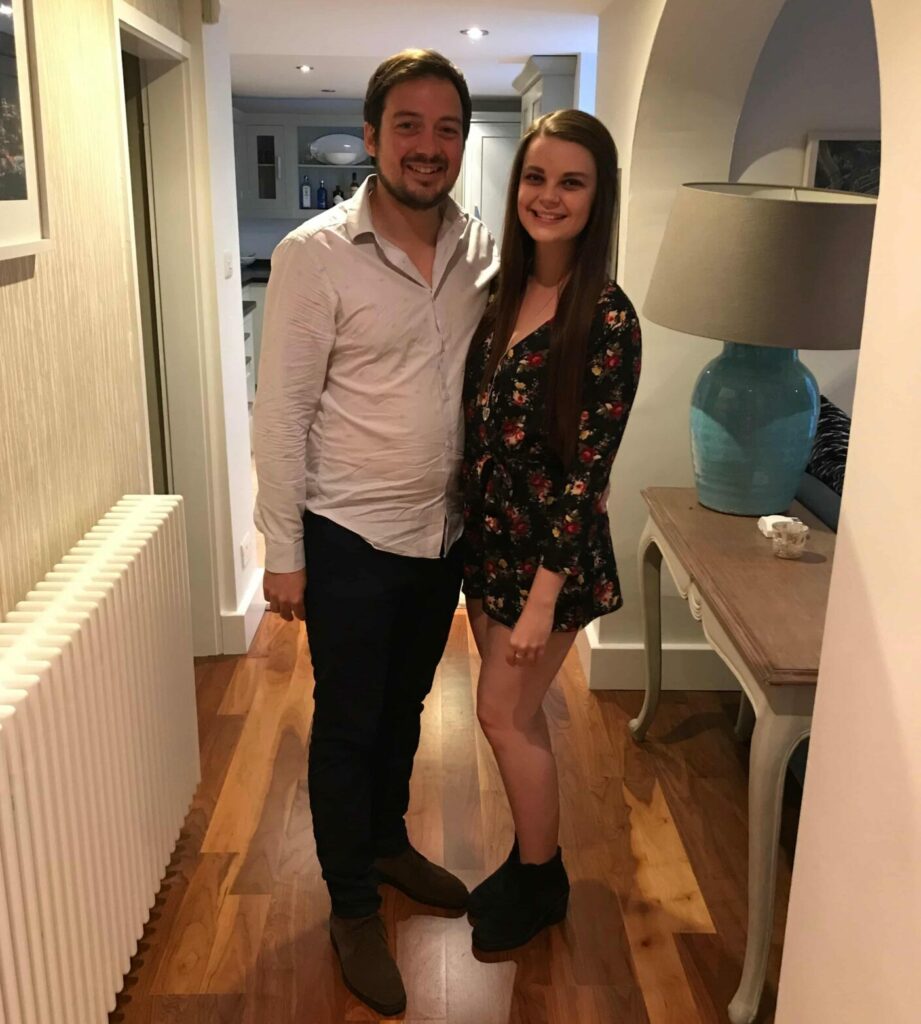 We don't ever want Sarah to be forgotten
"This Christmas will be two years since we lost Sarah – our beautiful girl with the most infectious laugh, stunning smile and wonderful voice. We would give anything to have her back. We talk about Sarah constantly and know that she is with us all the time. We don't ever want her to be forgotten.
"If it weren't for the air ambulance or the hospital, we wouldn't have had those 10 days with her. Most people who had Sarah's type of aneurysm don't make it to hospital. We had those precious days where we had a bit of hope, and when that was lost, we had that precious time to say goodbye.
"Even though ours is forever changed, we know that life fundamentally is still precious. This Christmas make sure you hold your loved ones close and show gratitude to those that help others in their time of need. We will be forever grateful to the teams at Southmead Hospital. Your support could help refurbish the family room we stayed in in the Intensive Care Unit, or support staff wellbeing as they care for patients and support families like ours this Christmas."
Please give what you can to be there for loving parents like Andy and Jeanette.