NICU installs the region's first biometric fingerprint security system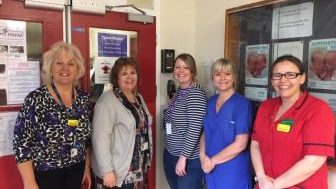 A new biometric fingerprint entry system will allow parents easier access to the Neonatal Intensive Care Unit (NICU) to see their babies at Southmead Hospital.
The NICU is the first in the south west region to introduce biometric technology.
Our amazing fundraisers and donors have provided the £1,500 necessary to support this system, bringing families closer together in difficult times.
It gives parents quicker and easier access to NICU so that they can see their babies whenever they wish through a secure and robust entry system.
The system uses a scanner to capture a digital image of the finger prints of NICU parents, generating a biometric template.
When a parent places their finger on the entry scanner, the system recognises the fingerprint patterns from the stored template and allows access.
"This new system is in addition to the already high level of security that we have in the NICU at Southmead Hospital, further reassuring parents of our commitment to a safe and secure environment.

"It is very important to parents to know that they will be able to be with and care for their babies at any time, it helps them to feel connected and supported at what can be a very difficult time and throughout their NICU journey.

"We're very thankful for the support of Southmead Hospital Charity and their donors and fundraisers for funding this project."

Cathy Budd, Specialist Nurse at Southmead Hospital's NICU
The image of the fingerprint taken by the biometric system is only recognisable by the system itself and would only be able to generate information such as check-in times, so there is no risk to identity or personal data.
"Our NICU fund is amazingly well supported by a brilliant community of donors and fundraisers, many of whom are parents and grandparents, and their wider family and friends, of babies who have been cared for by the Southmead Hospital NICU team and what to say thank you through their support of the charity.

"The biometric project is a great example of how thanks to these fundraisers the charity can enable the NHS to deliver innovative and exceptional healthcare locally."

Elizabeth Bond, Head of Fundraising Operations at Southmead Hospital Charity
You can support the work of NICU in treating and caring for pre-term and unwell babies by donating or setting up a regular gift.