Remembering Iain: Maisie's story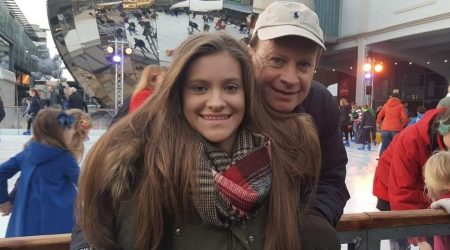 After losing their beloved dad and partner Iain, Maisie and mum Sharon reflect on the amazing care he received
In April 2018, while at work, my dad suffered a severe brain aneurysm which also caused a heart attack. He was airlifted to Royal United Hospital in Bath for initial tests. He was then transported to the Intensive Care Unit (ICU) at Southmead Hospital, which had the specialist equipment needed to best support him through the next few critical hours.
During this time, as a family, we were in a state of shock. Dad was only 49, and he was a healthy, fit man with no previous health conditions.
The ICU team was incredible. It was clear that they were putting my dad's best interests at the forefront of the decisions being made. The outcome we faced was out of everyone's control, and unfortunately, there was no treatment available.
Dad was never alone in his final days
Despite the best efforts of the ICU team, my dad would never regain consciousness and we had to make the hardest decision to let him die naturally. We stayed with him for two days and held his hand until the very end.
At a time when we felt our whole life was crashing down around us, the hospital staff were brilliant. They spoke everything through clearly, so we understood the next steps. All we wanted was to ensure he was comfortable and didn't suffer.
We're so appreciative of the dedicated ICU team
My dad was always such a bubbly, outgoing individual and he loved to make people laugh.
We want to ensure that his incredible spirit lives on – not just in the memories that we cherish – but by giving back to the ICU staff who showed such selfless love, care, and dedication to my dad in his final days.
Although some of my fundraising plans have been disrupted by Covid-19, I'm going to continue to raise money in support of the ICU. After my first event, I had the great privilege of donating more than £7,000 to the ICU team and I was overwhelmed by their gratitude. I could see how much it meant and that it would make a real difference to patients.
Raising money for life-saving equipment
As well as supporting the ICU, I'm also planning to raise money for the robotic digital microscope to help people living with brain tumours, disease, and injury. I've been so touched by people's generosity and response to my fundraising and I'm sure that my next event will be even bigger and better than the last. I'm hoping to raise £10,000!
I always look forward to Hannah (my contact at the Charity) updating me on how money raised by supporters like us is being spent on vital equipment in the ICU. Both me and my mum look back on the most challenging time with the greatest warmth knowing that the best care was given to my dad and that our fundraising makes a difference to patients and families in need.
---
If you would like to give in memory of a loved one or leave a gift to the hospitals in your Will please contact Hannah who will be there right alongside you to help you create a lasting legacy.